Dalam rangka memperingati hari debut BTS di tahun ke-9, Jungkook memberikan hadiah spesial untuk ARMY berupa lagu ciptaannya berjudul My You.
Bukan hanya menulis liriknya sendiri, Jungkook juga menyanyikan secara solo lagu tersebut dengan musik video khusus yang dibagikan pada Senin, 13 Juni 2022 tepat pukul 12 malam.
Apa makna di balik lirik lagu My You - Jungkook BTS untuk ARMY? Simak fakta selengkapnya!
Pesan Jungkook BTS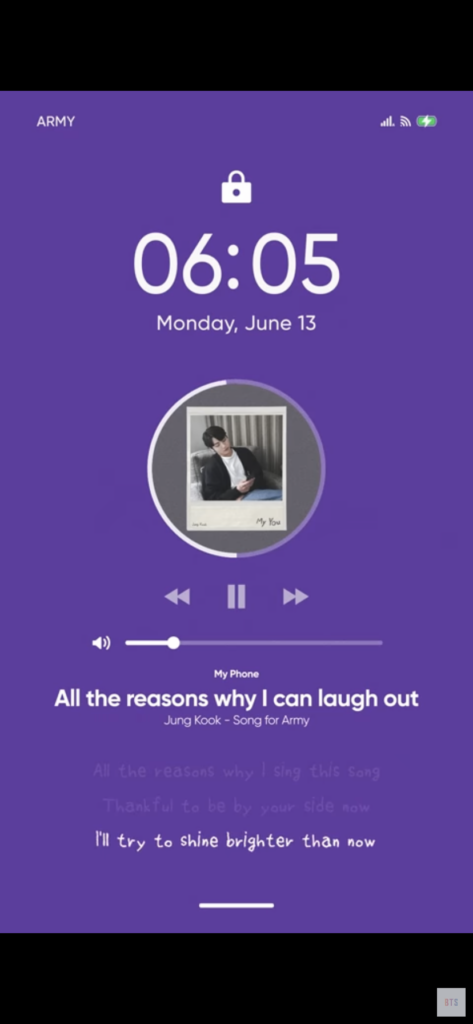 Jungkook menjelaskan bahwa lagu My You ditulis saat memikirkan perasaan ARMY untuknya yang penuh cinta. Namun terkadang, Jungkook memikirkan bagaimana jika hal tersebut menghilang, atau jika ternyata hal itu hanya sebuah mimpi?
"Maka, itulah mengapa aku kepikiran untuk membuat lagu ini berdasarkan pemikiran tersebut. Lagu ini memiliki mood yang sedih atau muram, aku berusaha mengisi liriknya dengan kata-kata yang indah," ujar Jungkook dilansir dari Bangtan Tistory yang dibagikan BigHit Music pada Senin, 13 Juni 2022.
Jungkook berharap, lagu My You bisa membuat ARMY yang mendengarkan merasa penuh harapan dan mendapat energi.
"ARMY terima kasih selalu, dan di masa depan, mari terus membuat kenangan yang lebih indah. My ARMY. I love you," ungkap Jungkook.
Sang maknae dibantu oleh produser BigHit, Hiss Noise saat proses pembuatan lagu My You. Lagunya di awali dengan lirik berbahasa Inggris kemudian dilanjutkan dengan bahasa Korea. Jungkook menampilkan kekuatan vokalnya yang lembut dan menggetarkan hati.
Lirik Lagu My You - Jungkook BTS (Romanized)
Love, your word of love
Is opposing your stone-cold eyes
Bashing on, and holding out my tears
Knowing all too well that nothing is ever the same
Enough, just enough already with all the pretending
It's a paradox in our reality
The reason why your heart changed today
Just tell me, what I need is the truth
No need to worry, I won't hold you back
If you don't love me and want to leave me
Just say it, don't drag this over and leave it hanging in our hearts
Whether staying or leaving, still, I'm invisible to you anyway
Like, I could only hold on to your body
But it would feel nothing to your heart
Bashing on, the more we meet, the more it hurts
What am I supposed to do to bring back who you used to be?
Enough, just enough already with all the pretending
It's a paradox in our reality
The reason why your heart changed today
Just tell me, what I need is the truth
No need to worry, I won't hold you back
If you don't love me I'm ready to surrender and understand
Just say it, don't drag this over and leave it hanging in our hearts
Whether staying or leaving, still, I'm invisible to you anyway
Just tell me, what I need is the truth
No need to worry, I won't hold you back
If you don't love me I'm ready to surrender and understand
Just say it, don't drag this over and leave it hanging in our hearts
Whether staying or leaving, still, I'm invisible to you anyway
(Cause anyway, I still love you, always)
Summer has already spread in the air
Breeze is already blowing
The last cold snap is going out
The days were getting longer and longer
But my days were still going on, and on, and on
I got wet in the sun shower and looked up at the night sky
It was quite a lonely night
In the blink of an eye
The dark faded out
Blooming under the sunlight
Memories with me and you
All these lights are colored in by you
All these times are precious due to you
Four sеasons have passed with you
Four scents wеre left 'cause of you
All the reasons why I can laugh out
All the reasons why I sing this song
Thankful to be by your side now
I'll try to shine brighter than now
Sarajilkka
Hoksi kkumilkka
Dwicheogida
Tto jami deunda
Yeongwonhal su isseulkka
Samuchin i mam
Dallaeeo boda
Bame jamgyeo gamginda
Samut sseulsseulhaessdeon bam
Eoneusae meokgureumeun heuteojyeoga
Biccjulgi mit saegyeojin
Neowa namgin ongideul
Modeun bicceun nege muldeulgo
Naui siganeun wanbyeokhaejyeo
Ne beonui gyejeol ttodasi
Deo jiteojige ttodasi
Naega misoreul jisneun iyudo
I norael bureul su issneun geosdo
Ne gyeotigie gamsahae
Deo biccnabolge hwanhage
On a starry night
Hope my you sleep tight
Shining purple light
Thankful to be by your side now
On a starry night
Hope my you sleep tight
Shining purple light
Ne gyeotigie gamsahae
Terjemahan Lirik Lagu My You - Jungkook BTS